Social media is everywhere nowadays and somewhat difficult to avoid. But are you making use of it for your Business? Do you feel confused and overwhelmed by social media and how to make it work for your small business? Are you struggling to find the time to get it done right?
If your answer to either of these questions is Yes, you are in the right place!
We can help boost your business online by managing and updating your social media accounts to help engage with your target audience and to increase public awareness of your business and brand.
A leading online marketing agency with a clear and simple mission; to grow brands online. SEO, PPC, Email, Social media, and stunning Websites – we create bespoke strategies for your brand. As such, it was paramount for us to be able to clearly demonstrate our services to our clients and to ensure they are fully aware of what they are getting from our services.
CFM Group, helps businesses plan their social media, set-up their channels, provide social media training, and manage their output for them.
We have hence (Similar to our Online Ordering and Maintenance services), created social media packages for busy business owners who want us to do their social media for them, so they can focus on their business.
Our packages are designed to roll-over each month to ensure that you don't experience any periods with no content. Rest and feel reassured that your profiles will maintain a constant and consistent presence online. Our carefully curated posts will be relevant to your company, brand, service, target market, and industry sector and designed to depict your quality and expertise.
We will create and employ a custom, optimized social media strategy to target followers that are relevant to you and are more likely to be actively engaged with your brand.
If you don't feel that any of our packages will fulfill your specific requirements. Do not hesitate to also download our SMM Packages and have a look at our dedicated Social media page and blogs with loads of useful tips, guides, and advice.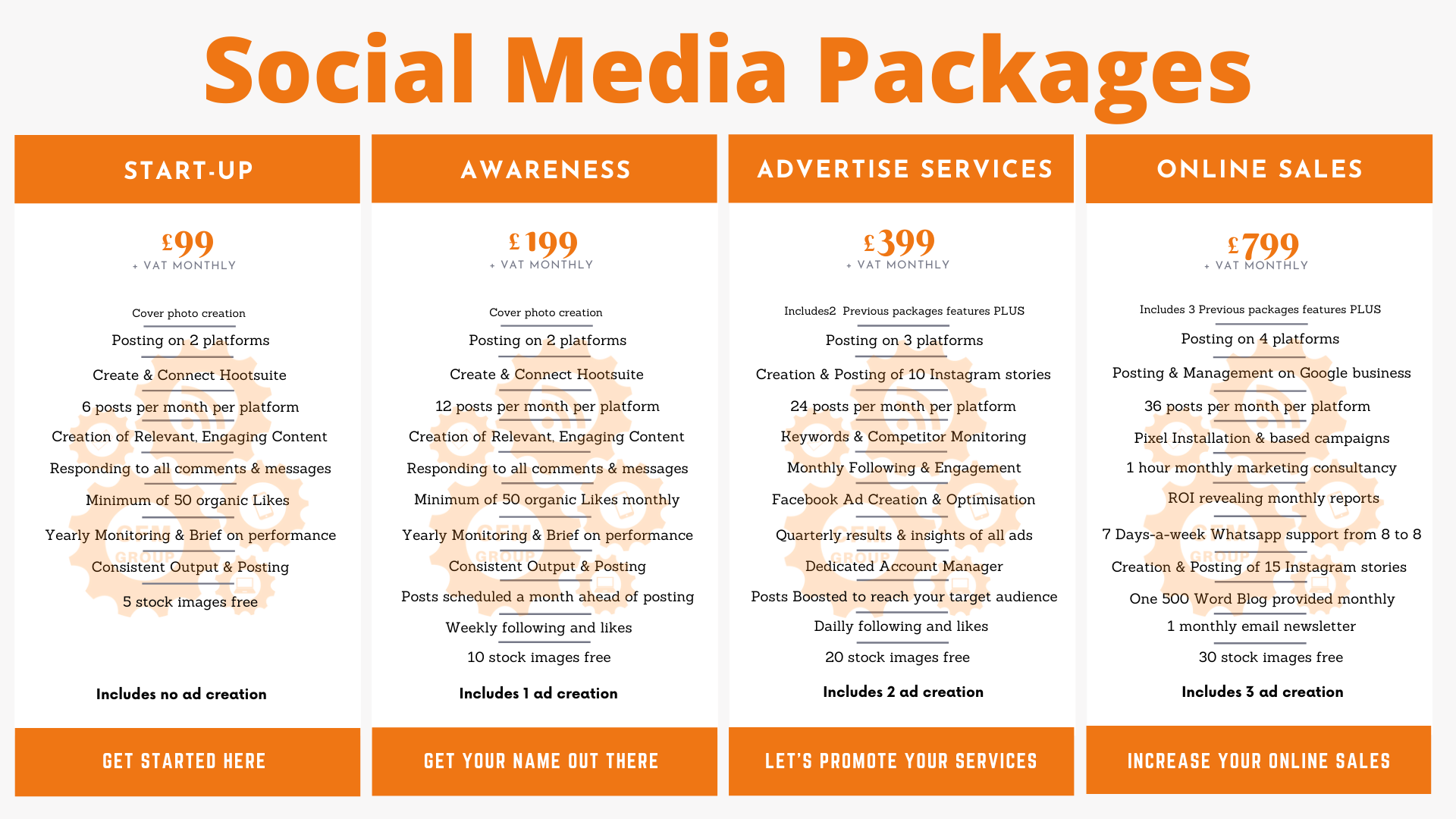 Dynamic, results orientated and highly experienced, we work together with clients to develop and deliver innovative, integrated marketing, Social Media campaigns, PR and communications strategies that deliver every time.
We'd love to hear your view so do not hesitate to contact us, subscribe to this blog for free, or click here to arrange a FREE Consultancy meeting. Otherwise, you can always send us an email at [email protected] or Follow our Social profiles on Facebook, Twitter, LinkedIn, and Instagram.