It is a question I am often at the other end of with a lot of the start-ups I deal with on a regular Basis.
"Is my domain name really that important Nick? If I have a quality website and a top notch product do I really need to spend a lot of time and money thinking of a domain name?"
"Well, yes, you do "is my answer ! You see, your domain name is possibly one of the most important elements when it comes down to your website and its visibility.
"Why" , they usually respond.
For a number of reasons but I would focus on 3 main reasons.
It's the "first impression" you give to your potential clients.
It affects your SEO and hence your ranking.
It effectively defines your brand.
These elements are only a few of the many reasons why your domain name is so important.
So, how do you go about choosing the right domain name. Let's have a look at 6 key factors that are key to consider prior to your decision.
It is crucial that your name is unique and not already in use or even trademarked or copyrighted by another company. Finding that out at a later stage and when you are already trading could cost you an enormous amount of money in both legal costs as well as re-branding.
Research has often proven that choosing a Brandable rather than a simple generic name works better for companies in the long run. A brandable domain name needs to be unique which will allow it to stand out from the millions of competition out there.
It is of paramount importance that your Name is as small as possible and clear to your fans or followers. Research (please see below) has often shown that some of the biggest brands in the world are all using domains with no more that 6 characters and there is a direct link between the length of a domain name and its popularity.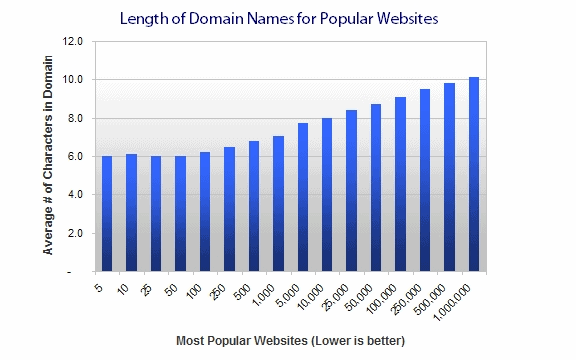 Source: Gaebler.com
Easy to Remember and Pronounce
This is directly linked to the above as a short and clear name will subsequently also be easier to remember and pronounce. A name like that comes easier to the mind and hence lingers at the tip of ones tongue when thinking of a product or service so its vital you get it right. This will also assist with "word-of-mouth" as your fans will quickly become your advocates,
It is also strongly advisable to purchase a number of different domains with various domain extensions as well as mis-spelt versions of your domain. This will prevent competing companies in your industry to purchase or make any use of your name in the future.
Make sure you are organised, meticulous but also fast in making your decisions. Domain names can go very quickly so it is important you secure your name as fast as possible and prior to other competitors beating you to the chase.
Conclusively, your domain name (or url as it is also called, which stands for Uniform Resource Locator) is a key part of your company's branding, first steps and potentially overall success. It is hence imperative to conduct your research prior to picking a "favourite" and making sure it is based on at least 4 of the 6 factors above. Remember, this is the name that could potentially make or break your website so put the adequate thought and effort into it.
Feel free to click here to arrange a FREE Consultancy meeting or Follow us on Facebook, Twitter, LinkedIn  and Instagram !